President Joe Biden and his administration are attempting to develop an "authoritarian-style" and "surveillance-style" digital U.S. dollar through executive orders, warned House Majority Whip Tom Emmer (R-Minn.) on Feb. 28.
The four-term congressman recently introduced the CBDC Anti-Surveillance State Act to prohibit "unelected bureaucrats" in Washington from issuing a central bank digital currency (CBDC) that critics argue could diminish Americans' financial privacy rights.
The bill, which has several Republican co-sponsors, including Rep. Andy Biggs (R-Ariz.) and Rep. Young Kim (R-Calif.), would also ensure that the Federal Reserve is held accountable in its research and development of a digital dollar.
"The consequences, if we get it wrong, are far too serious," Emmer said at a news conference. "The Biden administration is currently itching to create a digital authoritarian-style, surveillance-style digital dollar through an executive order."
The bill, Emmer says, would restrict the central bank from issuing a CBDC or using a CBDC to implement monetary policy and control the national economy.
He added that efforts to digitize the U.S. dollar need to be transparent and protect Americans' right to financial privacy. Developing a digital version of the greenback must enhance financial inclusion, ensure transactions are efficient, and refrain from threatening Americans' privacy or sovereignty.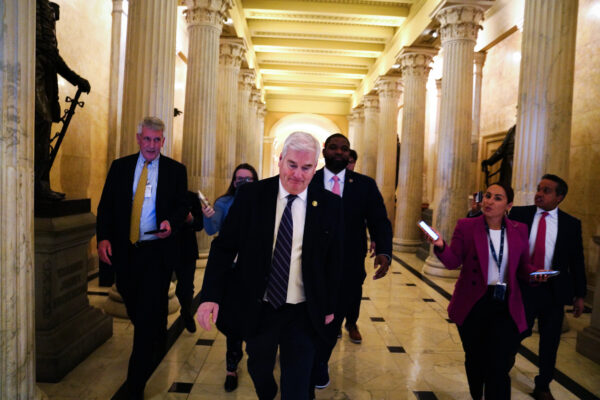 "We need these common-sense guardrails to prevent unelected bureaucrats here in Washington from sacrificing Americans' right to financial privacy," he said. "We do not want to emulate the CCP. We should not be taking our direction from the Communist Party of China."
In March 2022, Biden signed an executive order that requested the Federal Reserve to continue its ongoing CBDC research, experimentation, and evaluation to determine the benefits and risks of a digital dollar.
Bullish on a CBDC?
Over the past couple of years, the Fed and the Treasury Department have published several CBDC-related reports.
Speaking at a panel discussion hosted by the Bank for International Settlements in March 2022, Fed Chair Jerome Powell outlined his four qualifications to support a digital dollar: privacy, verifiable, intermediated, and widely accepted as a means of payment.
For now, the central bank hasn't decided on issuing a CBDC or how to implement a system, but policymakers and researchers are assessing the technology, says Michael Neal, executive vice president and head of markets at the Federal Reserve Bank of New York.
"We are actively conducting research and technical investigations into both retail and wholesale CBDC designs to improve our understanding of the risks and opportunities inherent to a U.S. dollar CBDC," Neal stated at a February event in New York.
In November 2022, the Federal Reserve Bank of New York and a group of major banks, including Citigroup and Wells Fargo, launched a 12-week pilot project that tested using digital tokens, which represented digital dollars. The purpose of the proof-of-concept program was to research a regulated liability network whereby financial institutions issue tokens that function as clients' deposits that are settled on a central bank reserve on a shared distributed ledger.
The Fed Bank of San Francisco recently posted a job opening for a "senior application developer–digital currency." The position would involve helping the regional central bank design and institute systems necessary for CBDC research.
"Given the dollar's important role, Federal Reserve System seeks to further understand the cost and benefits of the potential technologies for central bank digital currencies, and how the system better understand this emerging field," the San Francisco Fed Bank wrote.
Central banks worldwide have started exploring CBDCs as these entities try to catch up with China after the world's second-largest economy introduced its Digital Currency Electronic Payment, also known as an e-yuan, in April 2021.
The Bank of England confirmed that it's looking into CBDCs. But Deputy Governor Jon Cunliffe revealed to a Treasury Select Committee Hearing on Feb. 28 that the central bank doesn't currently possess the technical skills to issue a digital version of the pound.
"But to move to the next stage, which would be to build a working prototype, to test in a simulated environment and then you'd be into testing in a live environment, then implementation. This next phase is designed to put us in a position to do that," Cunliffe stated.
Last year, the Reserve Bank of India created two CBDC pilots in multiple cities nationwide, with thousands of customers and businesses testing the e-rupee.
The Bank of Japan (BOJ) announced (pdf) that it would begin a pilot program in April to experiment with using a digital yen. The program would consist of simulating transactions with private companies in a controlled environment.
"Our hope is that the pilot program will lead to improved designs through discussion with private businesses," BOJ Executive Director Shinichi Uchida, adding that these efforts would ensure the BOJ would be prepared in the event the federal government chose to adopt and issue a digital yen.
It has been estimated that roughly 100 nations, accounting for approximately 95 percent of global GDP, are exploring a CBDC. In May 2020, there were just 35.
Source: https://www.theepochtimes.com/house-republicans-accuse-biden-white-house-of-creating-authoritarian-style-digital-dollar_5088989.html