Two weeks ago, we reported that Credit Suisse stock suffered one of its biggest drop ever after it i) warned of continued losses for 2023 and beyond, and ii) revealed that it had suffered a record CHF110.5BN in outflows in the quarter, an amount which KBW analysts called "quite staggering."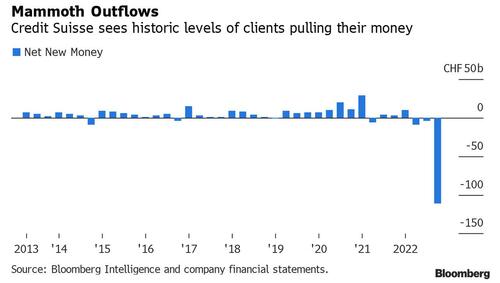 And, as we noted at the time, this was rather problematic because in late 2022, right after reports of the record bank run first hit, the company's management team and Chairman, Axel Lehmann, said in various media interviews that outflows had stopped – hoping this would relieve pressure on the bank and in the process, contain the outflows – when in reality the bank run was only just getting started.
Well, two months later, the regulators have gotten involved, and according to Reuters, regulators are reviewing unfoundedly cheerful comments the chairman – and other Credit Suisse representatives – made about the health of its finances.
As a reminer, on Dec 1, Lehmann told the Financial Times in an interview streamed online that after strong outflows in October, they had "completely flattened out" and "partially reversed". The following day he told Bloomberg Television that the outflows had "basically stopped." On December 2, the bank's stock jumped by 9.3% after Lehman's comments; it then cratered again after the company revealed just how ugly the outflows truly were.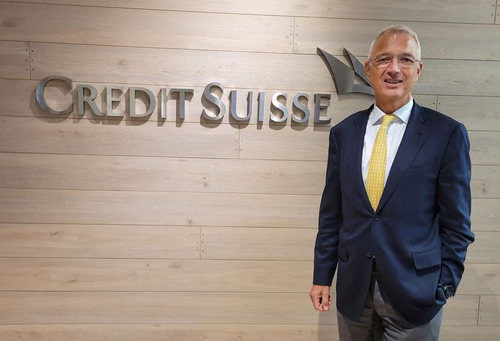 Not only had outflows not stopped but they were accelerating. And now, Reuters sources say that the regulator is reviewing whether Lehmann's statements were potentially misleading.
In response to a question on the distribution of withdrawals in the period Chief Executive Ulrich Koerner told analysts that day that more than 85% of the outflows in the last quarter happened in October and November, according to a transcript of the call.
That led analysts at Citigroup to conclude in a note to clients that management effectively indicated 15% of the outflows had happened in December, or after Lehmann's soothing comments. Finma's scrutiny adds to the challenges faced by Credit Suisse, which has been rocked by scandals in recent years. The lender has embarked on a sweeping overhaul to restore profitability by exiting certain investment banking activities and focusing on managing money for the wealthy.In early October a social media storm triggered by an unsubstantiated report about the bank's financial health prompted wealthy customers to move deposits elsewhere. The bank said at the time it was pushing ahead with its restructuring and remained close to its clients.
Responding to a Reuters request for comment on the Feb. 9 results, Finma said in a statement that while Credit Suisse's liquidity buffers had a stabilizing effect, the regulator "monitors banks very closely during such situations," referring to the outflows, which "were indeed significant" in the fourth quarter. It did not elaborate further.
News of the latest woes to befall the embattled Swiss lender which is now a mere shell of its former self, sent its stock plunging as much as 6.4% to a new record low of CHF 2.52 before partially recovering losses.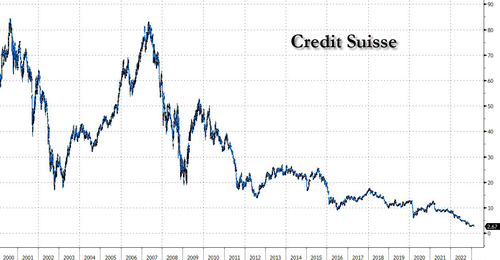 Source: https://www.zerohedge.com/markets/credit-suisse-crashes-fresh-record-lows-after-regulators-probe-if-chairman-lied-about